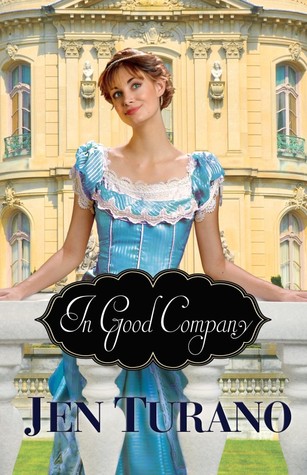 In Good Company
by Jen Turano
Rating: 4.5/5
A Class of Their Own Book 2
Bethany House – Fiction | Historical Fiction
Meet Millie Longfellow, a nanny who grew up in an orphanage in New York. Although she works well with kids, Millie always seems to find trouble and mischief and again finds herself looking for another job. After returning to the employment agency, she bumps into Everett Mulberry, who is searching for yet another nanny for the three children that he recently became a guardian to. She must not lose this job and Everett cannot lose another nanny for the summer. Although the children have scared away all the other nannies, Millie is confident in her abilities to handle the children as the family moves to a house in Newport for the summer season.
When Millie learns from the children about their parents' suspicious deaths, she requests that Everett look into the matter more carefully. As Millie gets closer to the children, she also gets Everett to take a more invested role in their lives; she starts to see that behind all the snobbery and elitism, Everett is someone who cares for others. Can Everett get over the societal barriers that keep him from following his heart? Can Millie let go of her preconceived notions of 1882's high society?
Even though I was reading a few other books, I picked this one up and finished reading it in a few hours. That should say all I need to about the book. I have not read the first book in the series, After A Fashion, but I just purchased it on my Kindle after reading this book. The writing was so well done and really entertaining. I was immediately pulled right into the world of 1882's high society. Millie's character was so endearing and quirky. The plot had some interesting twists that I didn't see coming but the story was not dark at all.
I only gave it a rating of 4.5 because I felt it didn't really address the faith aspect as well as I thought it could have. Other than a note that the cover art didn't seem period appropriate (felt too modern), I felt the story and characters were well written and thoroughly enjoyable. I recommend this book to anyone interested in a historical romance with spunk and fun.
I received this book for free from the publisher in exchange for an honest review.