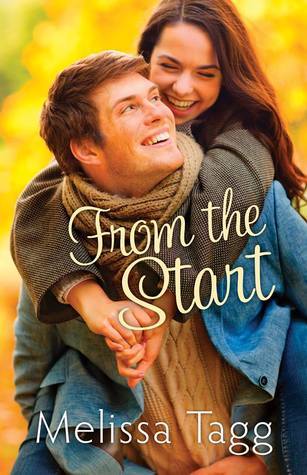 From the Start
by Melissa Tagg
Rating: 5/5
Book 1 of the Walker Family Series
Bethany House – Fiction | Contemporary Romance
Kate Walker has been feeling like a washed up screenwriter of romantic TV movies. Even after winning one Emmy, she feels like she hasn't written something real, something important, something that makes a difference. Her last relationship broke her heart and she's been super cautious ever since. When her late mother's charity organization offers her the writing opportunity of a lifetime, she accepts but she needs a new gig to cover her expenses. When a tornado hits her hometown of Maple Valley, she drives home to help out her dad and other siblings with repairs. She meets her brother's good friend and a former NFL quarterback, Colton Greene, who is still recovering from a career-ending injury. Colton is dealing with his own demons from his tragic past but is still willing to stay and help Kate's dad with repairs. When Colton discovers Kate is a writer, he enlists her help to ghostwrite the memoir his agent says he needs in order to stay in the limelight. Is this an answer to prayer for both Colton and Kate? Even though Colton promised Kate's brother everything would be strictly business, can they deny the attraction and find a way to make their relationship work?
I absolutely adored this story! From the very beginning, I was hooked and needed to read more. Her characters were full of faults and fears that the reader could identify with. I really enjoyed a story with a very prominent faith aspect woven throughout. This story would definitely make a great movie in my opinion. I am definitely excited to read more from the author regarding the Walker family series. I laughed, I cried, and I thoroughly enjoyed every moment of this beautiful story of finding love, acceptance, identity, and peace.
I recommend this book to anyone who enjoys a clean, fun romance with a hint of mystery.
I received this book for free from the publisher in exchange for an honest review.