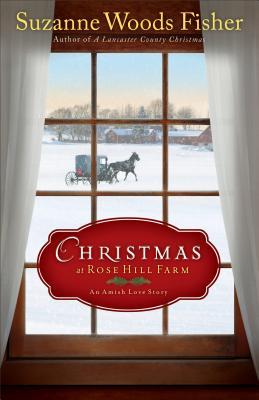 Christmas at Rose Hill Farm: An Amish Love Story
by Suzanne Woods Fisher
Rating: 5/5
Revell – Fiction/Amish
Bess Riehl should be excited to be getting married to Amos Lapp. He is everything that a good Amish man should be and he loves her. As she prepares for her Christmas wedding at her home, Rose Hill Farm, she never imagined her groom would be Amos; her first love would always be Billy Lapp, Amos' cousin and best friend. After Billy abruptly left home and broke her heart, Amos was the one to help console her and patiently waited to court her. Although life is not what she originally imagined, she is happy with Amos and feels she has forgiven Billy wherever he is. However, Billy has become the rose rustler, one who researches and identifies unknown roses, and Bess needs his help. She and her father have taken over the rose business and happen to find a rose bud that was hidden and is unidentifiable. Penn State sends its rose rustler to investigate and Billy suspects that the rose is an old rose that hasn't been seen in hundreds of years, but he must wait until it blooms to be sure. As Billy travels back and forth, he can't help the old feelings for Bess, but she is engaged to a good man. Will Bess reveal what she thinks she knows about that particular rose or will she keep it to herself to keep Billy coming back? If Bess is ready to say "I do" to Amos, why does she still feel a connection with Billy when he lets his guard down? Can Billy find peace for the reasons that he left in the first place? Can God show him the way back home and does that include Bess? Will this Christmas be full of miracles and redemption?
I do not think I've ever read anything from Suzanne Woods Fisher, but I thoroughly enjoyed this book. Love triangles seem to be so common, but the author was still able to spin some fresh material that was heartwarming and heartbreaking. I've never read an Amish romance that had a family like Billy Lapp's family, but the reader definitely sympathizes with Billy and his struggles. The author was not afraid to portray some darker sides and struggles of humanity no matter their background. I love how she continued to weave faith into this story about miracles and Christmas. I couldn't put the book down and want to read more from the author about this charming community.
Being a biology major, I was also fascinated with the research about roses that went into the story. I had no idea about the huge rose community that existed. I always enjoyed botany in college, but the story made me love roses even more and want to search out the rarer breeds. I was also impressed with the greenhouse technology, but also confused since I didn't think the Amish used any machines; I guess I'll have to research that information more.
I recommend this book to anyone who likes Christian romance from an Amish perspective.
I received this book for free from the publisher and NetGalley in exchange for a review.